Music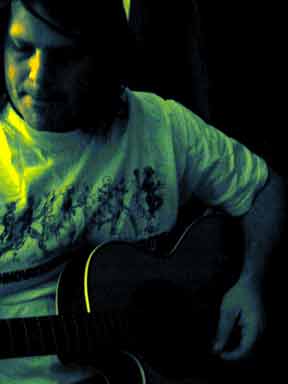 I've always dug music and at the age of 19 after dozens of viewings of 'The Kids Are Alright' I used what was left of an athletic scholarship I received from the University of Illinois to buy a cheap left-handed strat copy. That guitar lasted me until the end of the school year when it was ripped off at a gas station in Paxton, Illinois.

I saved up enough money waiting tables to buy a low end Epiphone which I kept until it was ripped off at Chicago's Union Station. A week later I spent an ungodly amount of money (which I didn't really have) on a horrible guitar from La Duca Brothers, a horrible music store in Milwaukee, Wisconsin.

So after two years I found myself with very little skill and three ugly guitar stories. I shudda quit, but I finally bought a really nice Canadian guitar and managed to hold on to it for the next 12 years. 22 years ago I bought an even nicer Epiphone and I finally decided I was a competent guitar player.

Now I spend way too much time with it but I really dig singing, playing and writing songs.
Original Songs


*actually written by my dog, Sydney

The Burdens

The Burdens are a rockin' blues-rock band out of Corvallis - check us out!

The Khampas

Ever since 1991 I've been playing with a group of chlorine-soaked former swimmers. We've played a ton of gigs under varioius names, but the current lineup calls ourselves


Won't Get Fooled Again
2014 Beijing China!

Bhagsunag
With Andy Haig in Dhaka, Bangladesh, 2013

New for 2012!! 50 years into my life and I've started playing piano!
Always Look on the Bright Side of Life - Harvard Square